OVALTINE ALPINE AL 1960s St Bernard dog premium glass offer, store display sign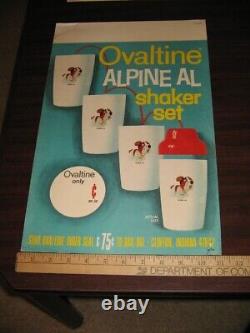 OVALTINE ALPINE AL 1960s St Bernard dog premium glass offer, store display sign. This item comes from the Ovaltine Archives-- read the story below. My Internal Inventory Code : 16x20-3. CONDITION OF ENTIRE COLLECTION : A General Statement.
Items may be folded, written on in ink or pencil (with notations, messages, personal notes or filing codes), stapled, taped, cut unevenly (in the case of pages from print media), punched with binder holes....... And a LOT of the items in binders were glued to black construction paper pages.
Fortunately whatever glue they used frequently has deteriorated and allowed items to fall off the pages without tearing or paper loss. However, keep in mind that such items carry brown brush stroked glue stains on part of their surface which I attempt to show in most cases. ITEM FOR SALE IN THIS LISTING : Alpine Al Shaker glass set sign, thick cardstock type paper. SIZE (if not clear in the photo--see ruler and yardstick).
CONDITION OF ITEM IN THIS LISTING : fine to excellent with light brown discoloration to part of the plain back side. Ovaltine was a product of the Wander Company and they originally had their offices in Illinois when they started in the 1920s.
They were located for decades in Chicago and Villa Park, IL and the return address on many classic premiums for Little Orphan Annie and Captain Midnight carried those same return addresses. In present day, Ovaltine is owned by Nestle who also now has one of their offices in Minneapolis MN. The storage where they were located was emptied and everything was put on 2 pallets about 6 feet high.
Employees of that office were instructed they could take whatever they wanted for free, since the items were headed for the garbage. After a week or so, whatever was not taken by employees was disposed of and unfortunately, A LOT of the material was not saved. No one knows for sure what was in the boxes that were thrown away but I can tell you that from what remains, the Ovaltine people were fanatical record keepers and appear to have saved EVERYTHING. The remaining material, The Ovaltine Archives, contained 99% paper items such as....................
40+ binders and books with such items as. Advertising blotters, TV station pitch books, CBS TV merchandising kit for the Capt Midnight TV show with film commercials and newspaper ad mats, several dozen 1950s Capt Midnight store signs, posters, salesman brochures and misc advertising, a small assortment of Ovaltine related archive photos, 1973 cereal boxes with PDQ offers, some misc LOA and Capt Midnight premiums, LP records with radio & TV commercials on them, numerous 16mm and 35mm films, and a large sampling of in store advertising materials such as large bin signs, posters, banners, window signs, jar labels, shelf talkers, coupons, jar collars, product holders, brochures, flyers, and more! There is not a lot of duplication. It is rare there is more than 2 of anything which makes me think that possibly they tried to save 2 of everything but in some cases, a small handful of items had quantity of 5 or 10.
Admittedly, a significant portion of the Ovaltine Archive material is only going to be of interest to die hard food, radio and premium collectors. There are 100s and 100s of invoices for example. If you ever wondered what it would be like to open "the books" on a company that had one of the most significant roles of all time in 20th century nostalgia and collecting---- here is a once in a lifetime opportunity!! After all, the legendary Little Orphan Annie decoder mentioned in the iconic movie, A Christmas Story, was issued by................. I can do this but ONLY If you follow the below instructions.
MY PHOTOS - If more than 1 item is shown in a photo--- then items are in SEPARATE listings unless otherwise stated! West Coast may be significantly higher on larger or heavier items. FYI here is what the US Post Office currently charges.
Offered by DAVID WELCH ------ author of COLLECTING PEZ 1995 and Pictorial Guide to Plastic Candy Dispensers 1991. I have been a full time antique and collectibles dealer since 1989 and have been collecting since the early 1970s. If you have questions about any negatives I have received, feel free to ask. Powered by SixBit's eCommerce Solution. This item is in the category "Collectibles\Pez, Keychains, Promo Glasses\Promo Glasses".
The seller is "pezdudewelch" and is located in this country: US. This item can be shipped worldwide.